To & From Gifts Makes Gift-Giving Simple & Fun
It started with a beautiful friendship. Ali Barshop and Meg Margiotta met in college at SMU, and later worked together. A friendship blossomed, and when both friends got engaged to their respective fiance's (now husbands), Ali and Meg knew they each wanted one another in their bridal parties. There was only one problem: Neither had a clue what to give the other for a bridesmaid gift.
"We became our first client," Meg says, laughing. "And then we realized so many brides out there must be asking themselves the same question."
The duo sought out to find a turnkey solution to gift-giving, so they founded To & From Gifts to make gift-giving as seamless and joyful as possible. But it wasn't just brides who needed help. Ali and Meg started working with small and large businesses who sought the perfect gifts for their employees. As Meg says, To & From Gifts became a multi-purpose designer of custom, personalized gifts.
"Anytime companies are looking for unique ways to say thanks or congratulations, or if they want a gift just 'cause, that's where we come in."
They also know that they've gotten to where they are now because of their ability to satisfy customers and earn new clients.
"In the business of gift giving, every recipient of a gift is a potential client," Meg says. "We may be working with a bride, and she needs to give gifts to her employees or employers.
"We're always looking to make those connections."
Like many new businesses, To & From Gifts had a humble start. Ali and Meg worked out of Ali's house for the first two years, but recently celebrated a big entrepreneur milestone when they moved into their own office space.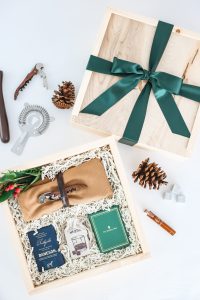 "Everything we did in the last two years enabled us to have this dedicated space, and fostered this growth we couldn't envision," Meg says. Her and Ali know they also owe thanks to the city where that office now stands. Everywhere they've turned, Ali and Meg have been able to find fellow business owners to aid them as they continue to build their business.
"Being in Dallas, we're surrounded by so many amazing businesses and entrepreneurs," Meg says. One of those businesses is Toyota. When the auto giant landed in Plano, Ali and Meg landed a gig as their official gift provider. To & From Gifts got to know the company and its team members, and designed a welcoming "Life is Sweeter in Texas" gift for the Toyota employees.
"It was exciting to work with such a major corporation, and so special to be a part of their move to Texas," Meg says.
The two friends are looking forward to taking on similar projects as they continue to grow, and they'll continue to work with brides. After all, two of their favorite gifts are the ones they got each other before To & From Gifts was created. Meg gave Ali and her other bridesmaids a knot ring inside a ring box (to symbolize how they'd help her tie the knot), and Ali gave Meg and her other bridesmaids gem earrings with a card that read, "You're a gem."
They now bring that personalized touch to all their clients, no matter who they work with, they'll remember the passion that got them into the gift-giving business. As Ali and Meg like to say, "The only thing better than getting a gift is giving one."